DataMeet 6 was a 2 day, Data Science Hackathon that was organised by a BFSI company, Zone Startups and DataMeet Mumbai. The Hackathon took place in the Bombay Stock Exchange Building at Zone Startup's office. Twelve teams participated. These included teams of young data enthusiasts and specialist data scientists teams from companies like TCS and Housing.com.
The BFSI company opened up 80GB of it's real transactional data in a secure environment to the participating data enthusiasts.
The teams were expected to analyze the data and draw out insights that would be relevant to their use case scenarios such as Health Bankruptcy or pull out a trend which is hidden and unknown to the BFSI company. Teams were free to use any tool of their choice from R, Python, Tableau, etc.
Each team was provided an individual secure Oracle DB connection from which they could query the data but not download the data. The Oracle DB connections were opened only to the Static IPs of Zone Startups Office and the data to and fro from the servers was monitored to ensure against downloading of the data.
Day 1
The day started with various teams analysing the raw data, tables, meaning of columns. The representatives from the BFSI company also gave a briefing about objectives.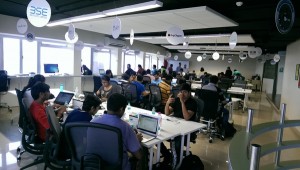 Day 2
Many of the young teams did not turn up on Day 2 due to complexity of the problem. At the end of Day 2, the judges from the BFSI company evaluated each team's progress, gave feedback and suggestions.