REGISTER TODAY! We have reached capacity but have left it open for today. If you are not registered you won't be able to join as Google security is very strict and will require you to be on a list.
Day 1: Pollution Party!
9:00am – 10:00am
Registration
10:00am – 10:15am
Introduction to OpenDataCamp
Team DataMeet
10:15am – 10.55am
Karnataka State Pollution Control Board
By Dr Nagappa, Scientific Officer
11:00am – 11:10am
Tea Break
11:15am – 12.00PM
Environmental Support Group
12:00pm – 01.00PM
Water Dr. Priyanka Jamwal
Environmental Researcher who currently is a fellow in ATREE. Her work focuses on identification of contaminant sources in surface water bodies, modeling the fate and transport of contaminants in urban hydrological systems and assessing the risk to human health due to exposure to contaminants.
01:00PM – 02.00PM
Lunch
02:00PM – 03.00PM
Pollution Data Collection Demos
Sensors without Borders, IndiaSpend*, Hindustan Times, YUKTIX – Open Weather Network Bangalore, India Open Data Association
03:00PM – 03.15PM
Tea Break
03:15PM – 03:45PM
Getting to 12 PM 2.5 | Setting the context for Action!
Sensing Local is a Bengaluru based do-tank focused towards making cities healthier, safer and more inclusive. The studio is working in partnership with Anti Pollution Drive (APD) Foundation, Mangalore towards a collaborative project on tackling air pollution. (https://sensinglocal.wordpress.com/
03:45PM – 04:45PM
Urban Emissions
By Sarath Guttikunda
04:45PM – 05.30PM
Group conversation and planning session on response to Geospatial Information Regulation Bill 2016
By Volunteers of SaveTheMap.in
05:30PM – 06.00PM
Closing Remarks and Plans for Day 2
Pollution DEMO HAPPY HOUR!
Mapbox Happy Hour, 6p to 9pm. Puma Social Club, 100ft Road, Indiranagar. Bring your badges!
Day 2: Action Party!
Sign your kid up to learn how to build environment sensors.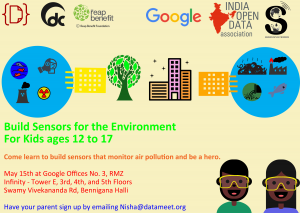 It is also a free day for people to demo, share and work on any projects they want!
Huge thank you to our sponsors!
Sponsors