Delhi DataMeet – Jan 28th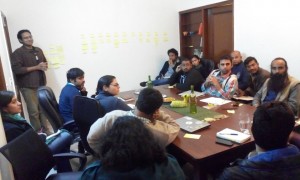 On the 28th of Jan Delhi DataMeet met to discuss their plans for the next year and to pick new organizers since Sumandro is leaving Delhi.
Nisha then summarized what was happening with DataMeet central and the other chapters.
 Amitangshu – when you think of DataMeet we think about through the sector we work in.  How does translate to the overall goal and become a common idea to all of us?
Updates on NIC

NDSAP Cell new's head BN Satyapati
Data.Gov.iIn team is the team that is managing MyGov.in – resources have been moved to MygGov – can we push mygov to do open data things?  People have to suggest open data activities on MyGov.in.  Something we can do?
We started out with introductions and with the following questions.
What should be the purpose of DataMeet Delhi?
How can DataMeet Delhi add value to your own work?
What activities/events should DataMeet Delhi do during the next year?
In order to find out the answer to the above questions post it notes were passed out and people were asked what they thought the purpose of DataMeet Delhi should be and what activities do they want to do in the following year.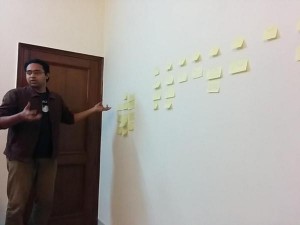 Purpose/Value
awareness and knowledge about the global movement of open data – nuances/ policy/politics
open data advocacy intervention in policy decision making, (think about other policies and portals in other ministries) (if you get buy in and it can move it forward) workshops, [bridging to osm – Satya] – advocating with various public officials – important thing to do.
 DataMeet has members with excellent data skills – students what to learn data tools – people interested in teaching and students learning more about data skills – help people use and learn data tools- help students – basic and small workshops – Ravi

when working with students – causes more due diligence – do it with an outside audience  –
hold them in north and south campus – in a college.
focused result workshops with journalists – focused with practical ends – training
Student Workshops – Ravi, Krishnan, Nisha, Guneet,  will work together to plan a few for March, April

open community, talks, organization, regular talks, conference
 act like a platform – teach learn and doing
talks, half day and 1 day hacks, areas to work, data entreauapneirship, public policy (budget state and local) – WASH, tie up with startups  – startups and private sector come in and talk about their issues and using data – start up tie in does help with advocacy – lobbying/legal political advisories – open source data conversation

let's think about specific audiences, there are so many catalogues – list of all the catalogues of different sources and mash up data
use gov data, collect public data and speak with them about publishing data, data tools service

team up with non for profits and help them solve their problems – break thru -woman's group – support them  – ashoka, idrc, go thru them and see who needs help  – later in the year – happy to solve them – take them up as they challenging etc

Non Profits –  submit problems and we can take them up as they come up and make that a focus on the DataMeet
helping NGOS – on board with what they want to achieve – figure out the larger things

 data problems – data successes – inspire and learn and connect
work more with start ups – spread open data ideas

side meetings – working with gov, ngo's and startups – sumandro, raman,

work with lamp fellows, prime minister rural fellows

Government  – we should be willing to help the government as well – government isn't easy to work with and is time intensive
TEACHING, LEARNING, DOING – The above purpose and values can be categorized under this mantra.
teaching students
doing advocacy and ngo solves problems
compiling casestudies
give rewards – push it to happen
make sure datameet gets credited
open data success stories
CALENDAR 
Feb –
Gurgoan budget data – Namrehta – interested in knowing more about what is happening – ongoing – state prs people – ADR – state chapter – city budget – ties into the overall state budget – income into city from state – and vice versa – long campaign – filing a PIL – ongoing – do a non profit – learning training thing
Assembly election in FEb
March
budget data ramanjit cheema,- bring groups who work on budget together – AI, CBGA
out in the open themed pecha kucha
June
capacity building with civil society groups
session of learning and- need to dismystify the tech heavy agenda of the group
July
AKVO event – water sanitation – manifesto what are the data gaps – bring them together – talk about data and shareing and advocacy – formats – INdia Wash Forum
 Oct
Public transport data – Guneet, Namrehta,
 Dec
 Nov
 New Organizers of Delhi Data Meet!!!
Guneet, Isha, and Prachi!!!
Thanks to everyone for a great meeting! If I missed anything please add to the comments!