On Thursday we had a DataMeet up! We would like to thank the Ashoka India offices in Bangalore for  hosting us and providing chai and snacks!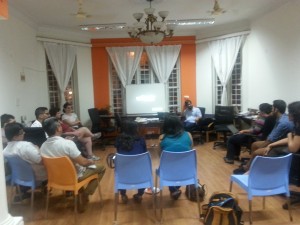 You can see the notes on the DataMeet HackPad and Thej's presentation here.  The topic was getting data from large scale telephone data collection methods.  Thej shared his experience using these techniques on a political campaign and at NextDrop.
It was a really great meeting and we had an interesting conversation on what tools to use to for what, what was effective and also methodology strategies.
Looking at telephone related data collection some of the interesting findings regarding the response rates to different outreach techniques.
Subscribe to Blog via Email